Andrew Kirschner, D.O.
Over the past 15 years, Andrew Kirschner D.O. has become the physician many top athletes and performers turn to for relief from pain.
He has been covered in many national publications including Martha Stewart Living, Andrew Weil's Self-Healing, and Psychology Today. He has been a regular guest on Whole Living Radio, the Veria Network, as well as numerous Philadelphia based news outlets.
I strongly believe in the osteopathic philosophy, that the body has an amazing ability to heal itself when given the best opportunity. That being said, I embrace more conventional medical approaches, offering a more comprehensive level of care. I never double-book, and schedule ample time for patient visits- a practice that is rapidly disappearing from the medical landscape.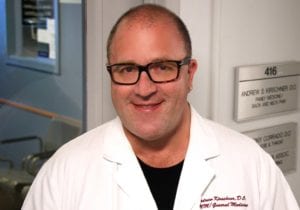 A board certified physician, graduate and Assistant Clinical Professor at the Philadelphia College of Osteopathic Medicine, Doctor Kirschner has created a unique combination of his own Osteopathic techniques and other carefully selected modalities which he has named OSTeO. These techniques with the accompanying psychological strategies can often help to decrease pain and restore peak function where more conventional approaches have failed.
Athletes and the physically challenged, adolescents and the elderly have all benefited from this unique approach to back & neck pain. He teaches these techniques both to laypersons in his Back Together live seminars, as well as to clinicians.
He serves as a preceptor for medical students and as the director of the Osteopathic Manual Medicine program in the Family Practice residency at Bryn Mawr Hospital and Main Line Health.
It has always been my goal to offer concierge level care without the additional costs. Being in solo practice, I take pride in developing long-term relationships with my patients which allow me to provide better care. I am on call for my patients 24/7- both via phone for emergencies, and via email for less pressing matters.
Andrew Kirschner maintains a private practice in Bala Cynwyd, PA and a peak performance consultancy in Miami, FL. He lives with his wife Donna and their children. His other interests include playing and writing original compositions for the piano, mountain biking, drawing and painting and vintage auto mechanics.
Read more about what other patients have said below: